Powder Mixer
Maruti industries are engaged in manufacturing of powder mixer and we are Leading manufacturer of RIBBON BLENDER in this catogory. we are also doing business in domestic as well as export for this product.
Showing all products from Group powder mixer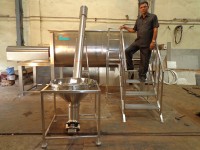 Varahi Industries is leading supplier of RIBBON BLENDER through out the world. we are also well known for the best quality products and our services in india as well as other countries. Ribbon Blender is mainly use for blend powder product like Pharmaceutical, Chemicals, Dyes, Pigments, Organics, Agricultures products, Minerals, Pesticides & Food products.
Ribbon Blender range and specification
| | | |
| --- | --- | --- |
| Model | Motor (HP) | Useful Module(Liters) |
| VRB-20000 | 60-75 | 20000 |
| VRB-15000 | 50-60 | 15000 |
| VRB-12500 | 40-50 | 12500 |
| VRB-10000 | 30-40 | 10000 |
| VRB-8000 | 30-40 | 8000 |
| VRB-6000 | 25-30 | 6000 |
| VRB-5000 | 20-25 | 5000 |
| VRB-4000 | 20-25 | 4000 |
| VRB-3000 | 15-20 | 3000 |
| VRB-2000 | 10-15 | 2000 |
| VRB-1500 | 10-12.5 | 1500 |
| VRB-1000 | 7.5-10 | 1000 |
| VRB-500 | 5-7.5 | 500 |
Inquiry
Details